The Green Ninja
Title(s)

The Chosen One, Energy Ninja

Nickname(s)

Green Ninja

Alias

Elemental Master Ninja

Characteristics

Race

Human

Weapon(s)

N/A

Gender

Male

Element

Creation
Energy
Wind (Formerly)

Appearance

Outfit

Green Ninja Outfit

Accessories

N/A

Traits

Complexion

Yellow

Hair Color

N/A

Professional Status

Affiliation(s)

Ninja Elemental Masters

Team

Personal Status

Status

Alive

Media

Debut

Rise of the Snakes (Prophecy)

Voice Actor

Unknown
Green Ninja
The Green Ninja (also known as The Chosen One) is a legendary Ninja spoken of in LEGO Ninjago: Masters of Spinjitzu. He is said to be the strongest of all Ninja, destined to defeat evil in a final climactic battle for the fate of the world.
The legend of the Green Ninja plays a major role in the first season of the cartoon, as the heroes search for his identity and eventually begin training him to fulfill his role as the Chosen One.
Background
Rise of The Green Ninja
Kai explained how he had unlocked his True Potential, only for everyone to realize the implications for Lloyd. Quickly, the Golden Weapons were held in front of the boy, where they began floating and emitting green electricity between them - to everyone's amazement, Lloyd himself was none other than the Green Ninja.
Wrong Green Ninja
Wu later revealed to the Ninja that he had at one time believed that Morro might become the Green Ninja. Unfortunately, when Wu shared this hope with Morro, it led Morro to develop an arrogant streak. When the Golden Weapons failed to react to him as had been foretold, Morro became furious and set out to prove himself worthy.
Gallery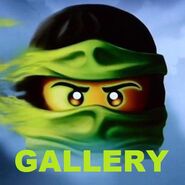 Click here to view the gallery.
Golden Ninja
The Golden Ninja
Title(s)

Golden Ninja

Nickname(s)

Ultimate Spinjitzu Master

Alias

Golden Ninja

Characteristics

Race

Human

Weapon(s)

N/A

Gender

Male

Element

Creation Golden Power

Appearance

Outfit

Golden Kimono

Accessories

N/A

Traits

Complexion

Yellow

Hair Color

N/A

Professional Status

Affiliation(s)

Serpentine (Formerly) Ninja Elemental Masters

Team

Ninjas/Elemental Alliance

Personal Status

Status

Alive;Lost Power

Media

Debut

Rise of the Spinjitzu Master

Voice Actor

Unknown
The Golden Ninja (also known as the Ultimate Spinjitzu Master) is a legendary Ninja spoken in LEGO Ninjago: Masters of Spinjitzu. The ancient hero is stated to be the most powerful Ninja, and is destined to defeat the source of evil.
The legendary Ninja is a major character who appeared in the final episode of the second season, along with a few episodes in the third season. Formerly known as the Green Ninja, the Energy Ninja became the Golden Ninja during The Final Battle between good and evil.
Background
Rise of The Ultimate Spinjitzu Master
Lloyd unlocks his True Potential to become The Golden Ninja to unleash his Golden Dragon and defeat The Overlord.
Losing Golden Power
Golden Power is the source that The Overlord could be the Golden Ninja. When Lloyd gets captured by Pythor P. Chumsworth, he went inside the Nindroid MechDragon to trap Lloyd and start the power draining to let The Overlord become the Golden Master
Giving Up Being The Golden Ninja
In The Temple of Light, Lloyd gives up his Golden Power to restore the Ninjas' elemental powers so no one could catch him.
Gallery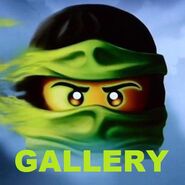 Click here to view the gallery.